While the world's attention will be on Plimoth Colony come 2020 – its 400th anniversary – let's not forget that the Pilgrims first landed in Provincetown on Cape Cod.  That's worth celebrating too.
Had the shoals off Chatham not proved so intimidating, the Pilgrims actually might have settled there before discovering either Provincetown or Plymouth.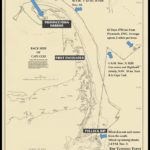 Today, there is a 55-mile trail across what is now the Outer and Lower Cape that you can travel to trace the explorations and experiences of the Pilgrims. For full details and to obtain a copy of the brochure visit the Museum Trail website.