The Chatham-based Cape Cod Commercial Fishermen's Alliance has been supporting Cape Cod's fishing fleet for more than 25 years. Founded in 1991 by a group of local hook fishermen, the organization was built to help give a statewide and national voice to the small-boat fishing industry centered there.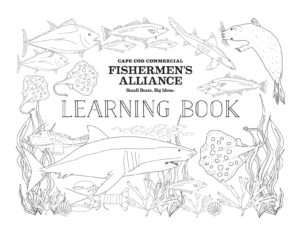 CARE's grant has supported a "learning book" that offers fun activities for visitors to learn about the fishing industry as well as how to become stewards of the ocean where they live. The Learning Books are distributed at the Fishermen's Alliance's popular Pier Program, created to help educate the hundreds of daily visitors to the observation deck at the Chatham Fish Pier each summer, the Chatham Visitor Centers or by downloading a copy at capecodfishermen.org.
Veteran and semi-retired commercial fishermen are on hand in season at the pier to share their stories, talk about the harbor and the fishing industry, and explain to visitors what kinds of fish the boats are unloading. Observers are often unfamiliar with under-loved species such as dogfish and skate that are regularly landed in Chatham and the Pier Program ambassadors are happy to provide information about these healthy and plentiful fish. The Fish Pier Program runs between 10 a.m. and 1 p.m. Friday, Saturday, Sunday and Monday beginning June 23 through October 9.