CARE for the Cape & Islands Day
Annual CARE for the Cape & Islands Day
CARE for the Cape & Islands Day is an annual event that invites volunteers from the business community to participate in a half day of service and education. Its purpose is two-fold: to benefit a local nonprofit tourism attraction through hands on volunteer service that helps to repair or improve its infrastructure while offering the participants an opportunity to learn more about CARE, its impact and how one might support its efforts.
Previous events have been held at Cape Wildlife Center, Waquoit Bay Reserve, Marconi Maritime Center, Cape Cod Museum of Natural History, Nobska Light, Thacher Hall (formerly The New Church) and Long Pasture Wildlife Sanctuary. Volunteers assisted with a variety of activities including painting, staining, gardening and trail maintenance throughout the morning. The events conclude with a presentation from the current year grant recipients, a tour of the facility, and lunch.
Requirements to host this event include:
The organization and location must be a non-profit in need of repairs.
Organization will provide a predetermined project list to the CARE staff – submitted with bid
Organization will help to promote the event through their database – social media, email
Post Event – the Organization will promote the work that was completed to promote CARE for the Cape & Islands and its volunteers.
Do you represent a non-profit that fits the above criteria? Please complete this form to be considered as a host.
CARE for the Cape & Islands Day 2023
Annual CARE for the Cape & Islands Day 2023
Thursday, May 18th.
8:30 (coffee and instructions) 9AM- 12:30/1PM
Known since 2016 as Harwich Cultural Center. A mixed-use municipal building that serves a critical role to provide an affordable rental space for community organizations, civic groups, and individuals to engage in cultural, recreational, social, educational, community service, civic and governmental activities.
The 204 offers valuable "launch space" where individuals can actualize their creative gifts and contribute to our local economy.
Whether they are engaged in the visual and performing arts, the health and wellness of others, or in the generation of ideas for the town's future.
Volunteers will assist with a variety of beautification activities including gardening and painting. Meet our grant recipients and learn about their projects.Registration $25 per person includes coffee, lunch and t-shirt. Proceeds will help to fund future projects.
Platinum Sponsor for the 2023 CARE Day
CARE for the Cape & Islands Day 2022
Annual CARE for the Cape & Islands Day 2022
Thank You Volunteers!

Another great success.
The sanctuary was dusted, cleaned and polished.
Floors were scrubbed.
The lower event room floor was painted.
The property was landscaped including planting new shrubs.
Invasive species was removed.
The back parking lot was cleaned, doubling in size.
And more!
Platinum Sponsor for the 2022 CARE Day
CARE for the Cape & Islands Day 2021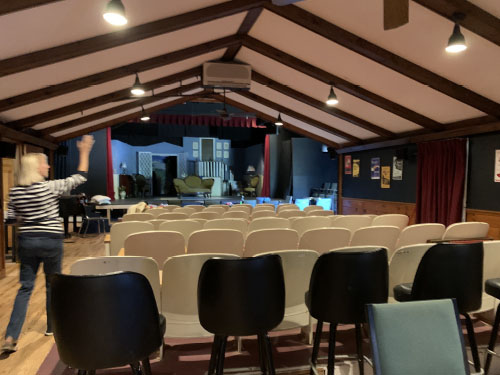 Annual CARE for the Cape & Islands Day 2021
Thursday, October 21

CARE Day 2021 took place at Chatham Drama Guild located at 134 Crowell Rd in Chatham. The Chatham Drama Guild is the Cape's second oldest continuously operating theater venue that is operated completely by volunteers. For over 80 years it has provided excellent family entertainment in a flexible and exciting theater space.
The day's accomplishments included:
2,000 square feet cleaned
2 tons of building materials removed and recycled
kitchen scrubbed and organized
property landscaped
costumes and fabric recycled
driveway entrances graded and filled
Thank you to each volunteer for participating!
Platinum Sponsor for the 2021 CARE Day
CARE for the Cape & Islands Day 2019
Held Thursday, May 9, 2019
CARE Day 2019 was held at MA Audubon Long Pasture Wildlife Sanctuary
Beautiful sandy beaches, butterfly-filled meadows, woodland trails, and farm animals combine to make Long Pasture a unique experience on Cape Cod. Gentle, varied trails lead to what some have called a "million dollar view," with Barnstable Harbor flanked by the dunes of Sandy Neck Barrier Beach. Long Pasture is home to expansive tidal flats and where they host a variety of activities including kayak tour, boat cruise, or family nature programs. View this video to learn more about what took place.
Volunteers Who Participated:
Spent the morning to prepare the site for the season
Enjoyed coffee from Three Fins Coffee Roasters
Learned the history of the site and future plans
Networked and made New Contacts
Met 2019 CARE Grant Recipients
Saw the Food Forest Exhibit funded by CARE
 Thank you to our

sponsors:



Beacon Financial, Northeast Unlimited Tours, three fins coffee roaster and Kayak Cookies
CARE for the Cape & Islands Day 2018
Held Thursday, May 3, 2018
CARE Day 2018 was held at Chatham Marconi Maritime Center.
Nearly 50 volunteers had the opportunity to learn about Marconi's impact on the world through his wireless communication and help preserve an important piece of the Cape's history. At the half day event attendees assisted with a variety of activities completing 140 hours of service planting, weeding, painting and preparing the museum for the summer season. 2018 grant recipients shared details on their projects during lunch. Learn more about them here. Watch this from CARE Day video to get a glimpse of the day's work for yourself.
Why  Volunteers Participated
Helped preserve an important Historic Site
Networked and made New Contacts
Enjoyed Lunch provided by Chatham Perk and Kayak Cookies
Learned about Marconi's Story
 Thank you to our additional sponsors:

Kayak Cookies and Northeast Unlimited Tours
CARE for the Cape & Islands Day 2017
May 10, 2017 marked the 4th Annual CARE for the Cape & Islands Day held in Woods Hole at Nobska Light. Participants were invited to give back while networking with other local businesses. More than 50 volunteers participated in a variety of tasks such as painting, washing windows, picking up trash and repairing walkways that offered beautification, preservation and safety measures throughout the grounds of this historic lighthouse. 2017 grants were presented at the conclusion of the event. A delicious, healthy and locally sourced lunch was provided by Quicks Hole Tavern, and Kayak Cookies, our lunch sponsors. Thank you to Green Shuttle, our transportation sponsor and also to Compost With Me. Check out our video to learn more about CARE Day.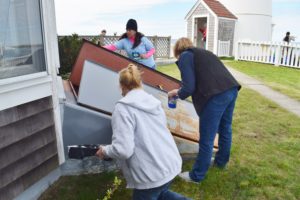 About CARE for the Cape & Islands Day
It is our goal to inspire residents and the business community to become stewards of the home we love, Cape Cod and the Islands. At CARE Day events attendees have the opportunity to make a difference through hands on service, learn about our funded projects and be able to take a tour of the grounds of our host. The event is a great way to meet other volunteers from the business community and recipients of CARE grants. Participants often remark that they've never visited our host location before and develop a newfound appreciation for their backyard. CARE Day typically run 8:30AM-1:00PM.
CARE for the Cape & Islands Day 2016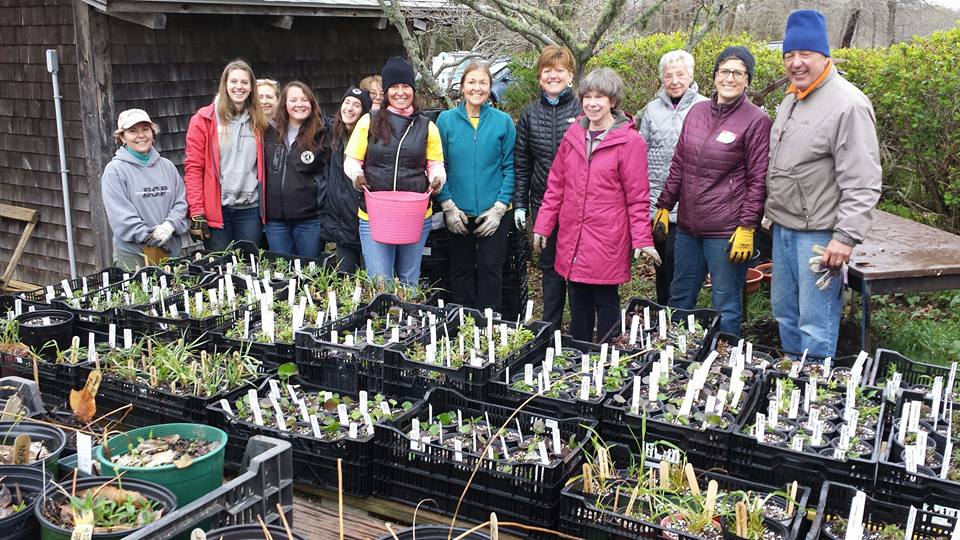 Each year we host a 1/2 day of volunteer service at a local nonprofit. Representatives from local businesses and residents were invited this year to the Cape Cod Museum of Natural History on Thursday, May 5 from 8:30 AM – 1PM. There were a variety of activities including planting the new Pollinator Path, one of CARE's 2016 support projects, and planting for the museum's upcoming plant sale. All attendees were invited to enjoy a Cinco de Mayo themed lunch during presentation of 2016 grants and take home a CARE Day t-shirt and organic seeds.
In order to support this and ongoing projects we ask that participants were asked to donate $25per person or $50 for a business of up to 3 attendees. If you were unable to attend you may still donate to CARE by sending a check payable to CARE for the Cape and Islands, P.O. Box 638, Yarmouth Port, MA 02675. Thank you for your support!
CARE for the Cape & Islands Day 2015